Why You Shouldn't Wait for "Someday" to Plan Your Succession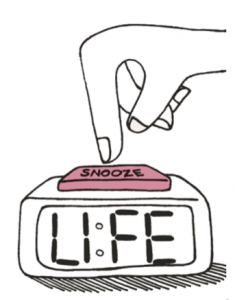 Ever wonder if today is the day? Let me tell you a story.
I had been a partner in my "boutique" money management firm for over 20 years when my partners and I decided to sell. Over the years, opportunities to monetize cropped up regularly while we grew our business. Looking back, I think it made us complacent. It made us feel like we had time. We relaxed into  a comfortable position on the fence, confident in our "someday score."
We thought there would always be someone eager to buy and that we'd be set.
So, we set no dates, made no planning tasks, and developed no target successor profile. We coasted on autopilot and didn't really think much about our "someday" beyond the occasional fantasy about the cash out that was sure to come.
Sound familiar?
The wake- up call
Our wake-up calls started about 10 years ago. Suddenly, we realized that "someday" was upon us—and we had no "score" in sight.
As I look back on my transformation from shareholder to seller, there are 3 specific wake- up calls that stand out as " crossroads moments" that too easily ccould have easily been ignored:.
A failed attempt to sell with a buyer who appeared to be a perfect partner.

A key partner who realized that he was ready to retire and move on before the, rest of us were.

The fact that I was 50, burned out, and worried
At the time, all I could, think was, "What will we do if we can't monetize this business?"
Although they were deeply uncomfortable, these moments had an impact on us. They increased our urgency and moved us toward an eventual sale. We sold in 2012, and I am grateful to be able to report that I am thriving on the other side.
What Can You Do?
The Number One mistake we can make when it comes to succession planning is failing to take action now and to take action consistently. A vision without consistent action is wishful thinking. It's likely to result in you falling prey to the "law of diminishing intent."
So, take action now by asking yourself the following questions:
What can I do

in this moment

to create the mental space and time to focus on succession planning?

What am I prioritizing over my strategic and life planning?

How might my loved ones, clients, and team be affected by my transition plan—

or lack thereof?
Take a few moments to answer these questions, and identify some simple actions to take now. Whether it's making strategic calls, doing research, or sketching out what your exit might look like, this is some of the most impactful work you can do in your career.
Stay clear with yourself about what needs to be done to achieve your goals. Once you see the path ahead, you will be able to confidently point your boat in the right direction from the start.
I see it time and time again.
Are you stuck in a troublesome pattern of waiting for "someday" instead of taking action now? It's time to get you unstuck so that you, too, can have a satisfying succession.
Click here to download our complimentary report- "5 Questions Business Owners Never Ask and Should, to Create a Succession Plan that Works "