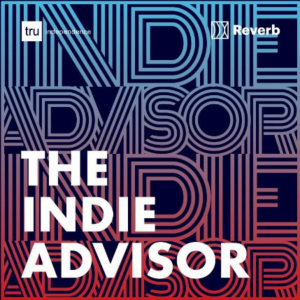 The Indie Advisor Podcast: Developing the Next Generation of Leaders.
Tune into The Indie Advisor Podcast to hear Laurie Nichols, RLP, CPC, Succession Planning and NextGen Development Coach, give her best tips on how founders can help to develop next gen advisors to become empowered leaders of their businesses.
Listen to episode 12 here: https://hubs.ly/Q01gBGQ_0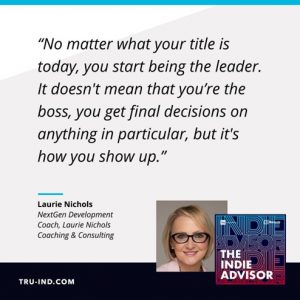 As the next generation of leaders takes the reins of businesses and organizations, they have to be prepared for the challenges ahead. Though they tend to have different values and priorities than their predecessors, what can they do to become successful leaders in their organizations?
In this episode, Tru Independence CEO and podcast host, Craig Stuvland talks with Laurie Nichols, Succession Planning and NextGen Development Coach, to explore the challenges AND the opportunities faced by firm leaders and their potential successors.
Laurie shares with Craig insights and tips from her experience of over 30 years in the industry and, more recently, coaching founders, partners and teams.  Her work focuses on helping owners uplevel their leadership and communication skills to truly connect with their NextGen successors so that they can whole-heartedly buy-in to a vision for succession that's beneficial to all.
Highlights of Laurie and Craig's conversation:
What motivates her to practice coaching,
How founders can prepare for business and leadership transitions
What the key components are for developing NextGen advisors.
___
Together we'll discover what you really want for your legacy so that you and your business thrive on this phase of your journey… starting right where you are.
Click here to download our complimentary report- "5 Questions Business Owners Never Ask and Should, to Create a Succession Plan that Works " 
___
Key Takeaways
[03:11] – What motivates Laurie to practice coaching.
[08:09] – What makes people want to reach out to Laurie.
[10:39] – Laurie's perspective on NextGen successors taking over the firm.
[14:24] – How founders can prepare for business and leadership transitions.
[19:08] – The dynamics of adapting old-school business strategies to new technologies.
[22:07] – Key components for developing NextGen advisors.
[26:34] – How Laurie helps owners and NextGen leaders align their visions.
Quotes
[13:21] – "Communication, engagement, and professional development are what it takes to have a win for the owners, a win for the nextgen successor in the team, and a win for clients." – 
Laurie Nichols
[23:04] – "No matter what your title is today, you start being the leader. It doesn't mean that you're the boss, you get final decisions on anything in particular, but it's how you show up." – 
Laurie Nichols
[23:34] – "Developing your skills in communicating with intention around your needs helps to break the pattern of 'conflict avoidance' because candor is not conflict." – 
Laurie Nichols
Connect with The Indie Advisor hosts:
Subscribe and stay in touch with the Indie Advisor Podcast: